iOS 14 Beta Features. Developed by Apple using special technology, the iOS 14 beta operating system will not contain many major innovations. Nevertheless, new features in iOS 14 beta will certainly be, without them, not a single major release of Apple. What innovations in iOS 14 do iPhone users want to see? Collected the most frequent wishes.
iOS 14 Suppoted Devices
iPhone
iPhone SE 2020
11 Pro/ 11 Pro Max/ 11;
XS;
XS Max;
XR;
X;
8;
8 Plus;
7;
7 Plus;
6s;
6s Plus;
SE;
iPod touch 7.
iPad
iPad Pro 12.9 ″
Pro 10.5 ″/ 9.7 ″/ 11 ″
Air 3
iPad 5/6/7
Mini 5
iOS 14 Beta New design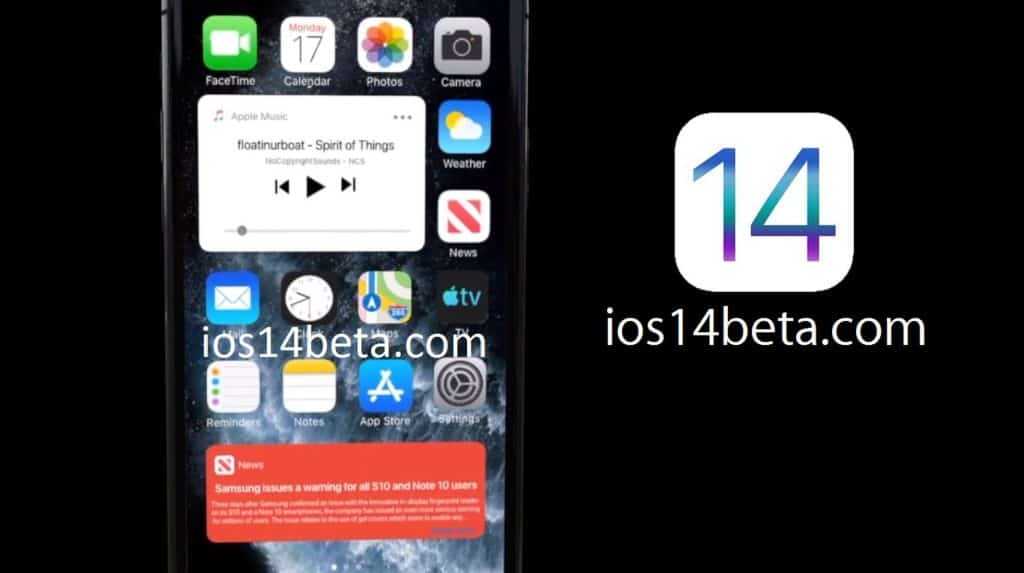 Many iPhone owners have been waiting for a big redesign of iOS. The last time the iOS interface changed dramatically back in 2013, when Apple released the "flat" iOS 7. After that, the iOS design received only minor changes.
It seems that aimed at fixing bugs and improving stability, iOS 14 beta has a minimum chance of getting a full redesign. However, hope is not worth losing. The upcoming iPhone 12 will receive a new design, and with it, Apple may want to update the look of iOS. Such a novelty will definitely attract the attention of consumers.
New desktop
Apple has slightly redesigned the iOS desktop. Users will be able to enable the display of all applications in a list:
By frequency of use
By the number of unread notifications
Alphabetically
Recently Opened
Siri offers
The Photo section will be transformed again
Developers will be able to add their own wallpaper to the system section. Users will be able to select them and install on any screen (lock, or home screen).
In addition, pictures created in the frame of the Shot on iPhone program will appear in the ribbon. Users can quickly send a snapshot and follow the results of its promotion.
HomeKit Enhancements
The company did not forget about the section with gadgets for the "smart home".
Lighting devices at Apple HomeKit will learn how to automatically adjust the lighting temperature according to the time of day.
Cameras will scan faces and send notifications when a family member returns home.
New mouse gestures for iPadOS 14
Cupertinos continue to improve the performance of iPadOS 14.
So, the company taught the operating system to recognize handwriting. That is, you draw words, and they are read and translated into a full text.
The function works in all standard applications. It is assumed that developers will get the PencilKit API and be able to integrate its programs.
iMessage will also improve
Apple also has not forgotten about its own iMessage service.
The company decided to add a number of popular features, such as deleting recently sent messages. That is, if you change your mind so that the interlocutor reads it, you can simply erase the message. However, it is not yet clear how long this option will be available.
Alternatively, you can change your own status by entering the / me command.
New AR Application
In iOS 14 beta features, an AR application with video instructions for training will appear. It is expected that exercises from eminent trainers will be built into it.
The program allows you to download video training and use your own music with them, while collecting data on calories burned with the Apple Watch.
watchOS 7: dials, sleep tracking
WatchOS 7 introduces several new features at once.
For example, a new watch will track your sleep phases and provide recommendations for improving your overall regimen. A personal alarm will be created for each user.
A tachometer will also appear to measure movement speed.
Plus children's mode. Parents will be able to connect to the Apple Watch and regulate which applications and music can be used during school hours.
Apple branded headphones
In iOS 14 beta features, they found the icon of full-size headphones from Apple.
While it is known that they will come in two colors: white and black. It is expected that the accessory will receive noise reduction, automatic detection of removal of headphones and much more that is already in AirPods.
Apple Watch Series 6 and watchOS 7
Apple's new smartwatch will not change in design. But then learn new tricks.
What is known for sure is the measurement of oxygen levels in the blood. If it is less than 80%, then the accessory will send a notification to the user. Thus, a watch will help prevent heart failure.
It is not yet known whether this option will be exclusive to Series 6 or watchOS 7. Experts say that it needs a separate sensor.
In the new firmware, the function of "sharing" the dials will appear. That is, you can create your own watch face, and then share it with your friends.
Apple TV Enhancements
The company is working on an improved version of Apple TV, but there is no exact details about it yet.
However, it is known that Cupertinians will completely redesign the control panel for the console. In recent years, it has become perhaps the most criticized product of the company.
New Accessibility Settings
iPhone and iPad with iOS 14 beta will be able to recognize a fire alarm, a siren, a knock on the door and crying children. These sounds are converted into tactile signals to help the deaf.
The camera of iPhones will also be taught the definition of sign language.
How to Download and Install iOS 14 Beta