Apple will release iOS 14.2 Beta 4 Profile on October 27th. Many bugs fixed with iOS 14.2. This beta version will be released for developers only. If you have a developer account, you can install this update. Ifyou don't have a developer account, you can register for $ 99 per year.
If you get a developer account, you can install betas and share the errors you find with Apple. But beta versions are the version in which the errors are not fixed. Therefore, your apps and your phone may not work properly when you install them.
iOS 14.2 Beta 4 Release Date: October 27
How to download iOS 14.2 Beta 4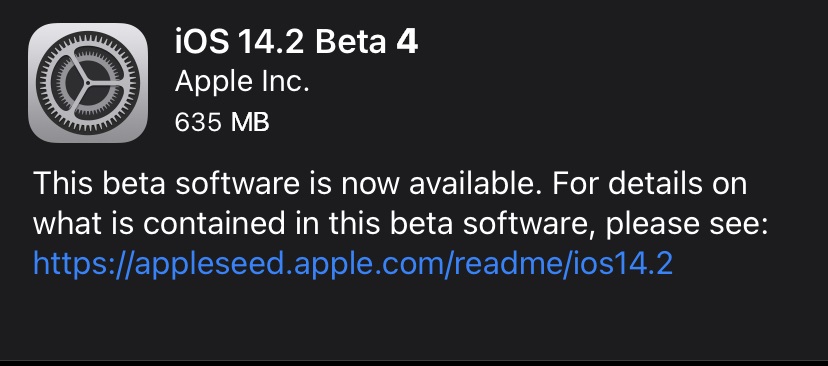 To do this, you must have one developer account. If you have an account, you can install the beta version by following the steps below. If you do not have a developer account, you should wait for the public beta. We explained how to install the public beta version in our article.
To download a valid beta developerprofile for testing iOS 14, download the Developer Beta Profiles command to the device;
Activate the Developer Beta Profile team;
Select iOS14 Developer Beta Profile;
Confirm profile upload;
Launch the "Settings" application and go to the "Profile loaded" tab that appears;
Select "Install" and confirm the action by entering the password, then accept the user agreement and confirm the installation again;
Reboot the device for the changes to take effect;
Go to "Settings" – "Basic" – "Software Update". wait until the current beta version of iOS becomes available and install it on your device;
To delete a beta profile, go to "Settings" – General "-" Profiles "- iOS 14Beta Software Profile and click" Delete profile ".
How to download iOS 14 Public Beta
What's coming with iOS 14.2 Beta 4
Shazam is now integrated into iOS at the system level. To enable it, you do not need to install the application – you can simply launch the Control Center and click on the corresponding button;
The Control Center has received a slight redesign. Apple redesigned the playback control widget and added a number of additional controls for audio and video content;
The AirPlay 2 streaming window now looks different than before. Now a cover of the broadcast content is available here with the ability to quickly switch between devices;
The "Magnifier" application now has a function for recognizing people. With its help, it will be possible to maintain social distance even for people with poor eyesight;
The icon for the "Clock" application on the iPhone has received an external transformation. The watch shown on it now has a monobracelet that Apple unveiled on September 15;
IOS 14.2 beta 2 has updated the emoji assortment. It has become wider, having replenished with several dozen new faces, including many inclusive ones.
There are not so many innovations, but there are definitely some memorable ones among them. For example, the ability to use Shazam as a standard iOS feature, available right in the Control Center. To do this, you don't even have to install the application, but you can simply open the shutter with quick access functions by swiping down and press a special button that appears there, as the music recognition mechanism starts.